Social Media Marketing (SMM)
Social media marketing is a powerful way for businesses of all sizes to reach prospects and customers. Don't miss out on one of the most powerful and customer engaging digital marketing strategies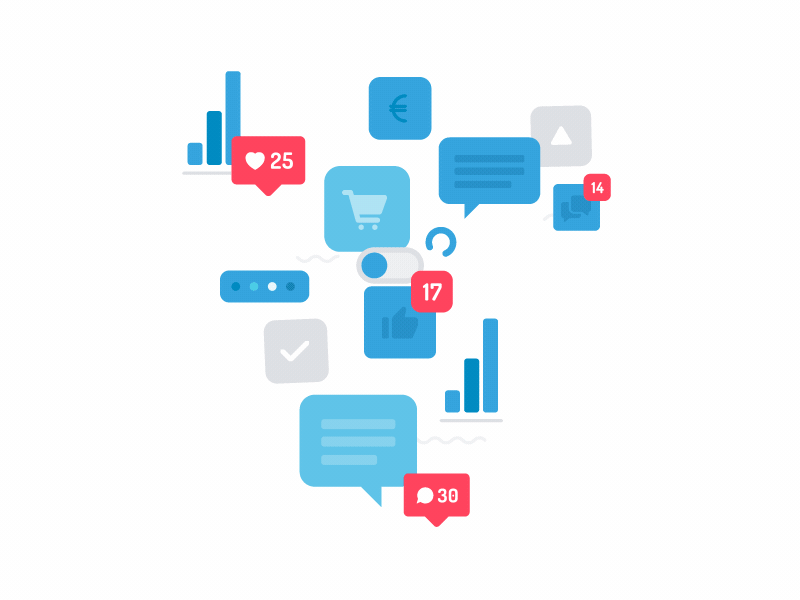 What is Social Media Marketing and why is it important to have it?
Social media marketing, or SMM, is an internet marketing activity that works around creating and sharing content on social media platforms to obtain your marketing and branding goals. Social media marketing consists of producing text content, images, videos, and even blogs that drives audience engagement, as well as paid social media advertising.
No matter if you're running a small shop or a big company, social media is the essential piece of your digital marketing strategy, especially if you're selling consumer products and services.Social media platforms enable you to connect with your customers, increase brand awareness, and boost your leads and sales. There are 3 billion people around the world on social media every month. Safe to say, it's no passing trend.Guess what, wait no further. You can start on social media marketing easily and effectively. Leads Interactive is able to help you launch and manage social media marketing campaigns.
Tell Us About Your Goals
6 reasons why you should incorporate social mediainto your digital marketing strategy.
Improved brand awarenessSocial media is one of the most stress-free and profitable digital marketing platforms that can be used to increase your business visibility. By applying a social media strategy, it will help you significantly increase your brand recognition. By spending only a few hours per week, over 91% marketers claimed that their social marketing efforts greatly increased their brand visibility and heightened user experience. Undoubtedly, having a social media page for your brand will benefit your business and with a regular use, it can also produce a wide audience for your business in no time.Improved brand loyaltyWhen you have a social media presence, you make it easier for your customers to find you and connect with you. By connecting with your customers through social media, you are more probable to upsurge customer retention and customer loyalty. Since developing a loyal customer base is one of the main goals of almost any business. Customer satisfaction and brand loyalty typically go hand in hand. It is essential to often engage with your customers and start developing a bond with them. Social media is not just limited to introducing your product, it is also a leading platform for promotional campaigns. A customer sees these platforms as service channels where they can directly communicate with the business.Marketplace awarenessOne of the best ways to find the needs and wants of your customers instead of directly communicating with them is Marketplace awareness. It is also considered as the most valuable advantage of social media. By observing the activities on your profile, you can see customers' interest and opinions that you might not know otherwise if you didn't have a social media presence. As a complementary research tool, social media can help you get information and a better understanding of your industry. Once you get a large following, you can then use additional tools to examine other demographics of your consumers.More brand authorityFor making your business more powerful, brand loyalty and customer satisfaction both play a major role, but it all comes down to communication. When customers see your company posting on social media, especially replying to their queries and posting original content, it helps them build a positive image in their minds. Regularly interacting with your customers proves that you and your business care about them. Once you get a few satisfied customers, who are vocal about their positive purchase experience, you can let the advertising be done for you by genuine customers who appreciated your product or service.Increased trafficOne of the other benefits of Social Media is that it also helps increase your website traffic. By sharing your content on social media, you are giving users a reason to click-through to your website. On your social account, the more quality content you share, the more inbound traffic you will generate while making conversion opportunities.Enhanced SEO rankingsSocial media presence is becoming a vital factor in calculating rankings. These days, to secure a successful ranking, SEO requirements are continuously varying. Therefore, it is no longer enough to simply optimize your website and regularly update your blog. Businesses sharing their content on social media are sending out a brand signal to search engine that speaks to your brand validity, integrity, and constancy.
Plan, create and grow.
Plan the campaign, create the post and grow more customers
Leads Interactive is able to help you create and manage your social media marketing campaigns and you can see results in customer engagement and customer behavior! Those data can be achieved with SMM and we are certainly able to provide you with leads.
Let's Socialize
Tell us what you want to achieve with social media marketing